During the pitch, we positioned Pepsi as a brand that "fuels the energy and optimisim of youth." We wanted to find a way that we could reach the elusive "millenial" target so we asked them what they do best: generate. Generate art. Generate music. Generate film. We called it The Pepsi Generate Project."
What if Pepsi behaved like a living organism 24/7/365?
What if Pepsi powered culture and culture powered Pepsi?
What if Pepsi empowered people to generate the ever-changing world of creation, innovation and cultural growth?
The Pepsi Generate project is a digital timeline created by cultural generators that culminates in a published time capsule of the year: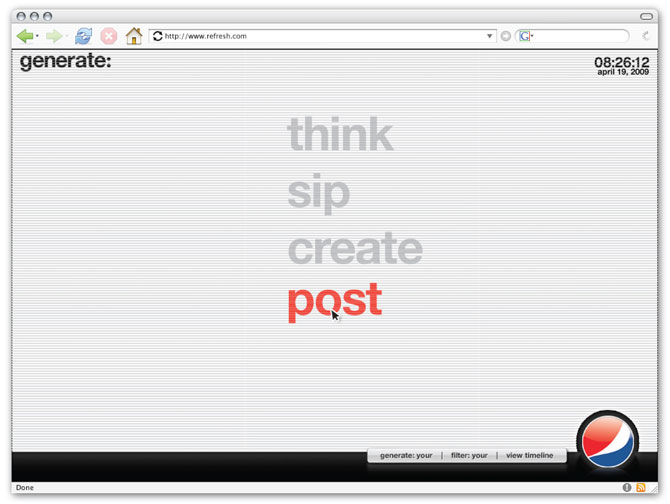 PEPSI NATURAL
For Pepsi's delicious, albeit short-lived, product Pepsi Natural, we came up with a simple idea to catch consumer's attention. Nothing more natural than the fig leaf.
PEPSI MAX DINER REMAKE
In this remake of the iconic 1995 Pepsi commercial, a Pepsi Max truck driver befriends a Coke Zero driver in a diner. Their companionship is jeopardized, however, when the Coke Zero driver discovers that he just can't resist the maximum taste of a zero-calorie Pepsi Max.
PEPSI MAX
The sequel to our remake of the 1995 diner spot from BBDO, this spot takes on the phenomenon of artful "case stacking" that goes on between soda pop drivers.
PEPSI THROWBACK
Pepsi Throwback turned out to be one of Pepsi's biggest selling products in 2009. Made with natural sugar it harkens back to a simpler, tastier time. Using the brand platform of "refresh" felt like an easy fit for this spot while leveraging our relationship with the NFL.
DIET PEPSI "Love Every Sip"
The Diet Pepsi Love Every Sip was my last campaign as creative director at Chiat before I left. So proud of the work. Sofia Vergara had exploded into pop culture and she became our iconic spokeswoman for three years in a row.
PEPSI "KING'S COURT" SUPER BOWL
With a rather unique brief - incorporating TV's X-Factor winner into a Super Bowl commercial, copywriter Armando Samuels and art director Kristina Krkljus dreamed up this little medieval ditty featuring Elton John, Melanie Amaro and Flavor Flav.
At over five million views in a little over a month, it was the most buzzed about spot of the game.
DIET PEPSI PRINT & OOH 2012
DIET PEPSI "BALANCING ACT" WITH "DANCING WITH THE STARS" MARK BALLAS
With a little extra downtime on the set of our latest Sofia Vergara Diet Pepsi spot, we shot this little film with choreographer Mark Ballas (Dancing with the Stars). Shortly after, the video was tweeted by Kim Kardashian, Kris Jenner. Lauren Conrad and a few other celebs.